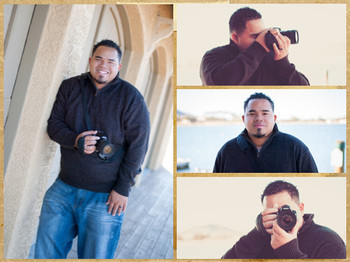 My name is Marvin Blue and it is my absolute pleasure to bring to you Blue Scope Photography. Being able to take pictures for a living has been a life long dream of mine and I am truly blessed to be living my dream.
Many people ask how Blue Scope Photography was created and the story is a unique one. Many years ago when I first picked up a camera my teacher who is Irish by the way, could not really say the word camera without getting laughs. Instead he would say "Scope" instead of camera and when I would leave my camera behind on my desk he would grab it, hold it in the air, and scream, "Who's Scope?" The class would respond with, "Blue's Scope!"
I see things from a creative eye; I consistently push myself to reach a high level of perfection with all my work. Life is art and it is my job to share my art, my life, and my passion with my audience.
I can make this guarantee and that is everyone that gets their picture taken from me will get my absolute best work and attention to detail. I am a perfectionist and will continue to make everything I do amazing.
Thanks for stopping by and I look forward to seeing you on the other side of my camera!!